A GREAT MILESTONE FOR ST. ANDREW CATHOLIC PARISH-RIRONI –GROUNDBREAKING CEREMONY FOR THE CONSTRUCTION OF A NEW CHURCH
The Construction of a new Church for St. Andrew Catholic Parish, Rironi, is set to begin following a ground-breaking ceremony on Sunday, 15th November 2020.
The occasion, led by His Eminence John Cardinal Njue, who was hosted by the Christians under the leadership of the Fr. In-charge, Fr. Peter N. Kiarie and the assistant, Fr. Peterken Njonge was a great milestone to the development of the parish.
The church to be constructed will be a 1,200 seater, with other ammenities including a meeting hall. This will replace the current Church, which is small for the growing population.
St. Andrew Rironi was an outstation for 42 years under different parishes until 23rd July 2016 when it was inaugurated as a parish. The parish has two outstations; St. Peter-Mithiga and St. Maximilian Kolbe-Gatimu.
In his Homily, His Eminence commended the parishioners for the project saying that time has come and everyone must be present today as yesterday is gone. He said the era where parishioners leave during projects and come after completion to claim ownership is gone. "Everyone must participate. The project is existential and thus all must be of good will and claim ownership," he said.
"The question to everyone should be what legacy will each leave behind? What is the heritage that we will leave for the children?" He reiterated that everyone present was there as the family of God and everything we do should be for the greater glory of God.
The parish is home to the late Fr. Paul Njoroge, one among the first Kenyan Catholic priests. His parents and a friend in the late 1950s donated ¼ acre of land each, for the construction of a church. The first Holy Mass was celebrated in August 1956 by Fr. Meade under the fig tree that still stands to date next to the Church compound.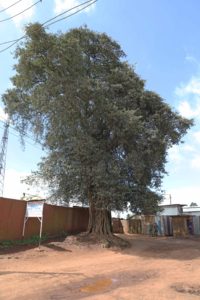 By Felista – PCA Rironi parish