A NEW DAWN IN THE ARCHDIOCESE OF NAIROBI AS ARCHBISHOP ANYOLO IS INSTALLED
November 21, 2021
by
Janet Hinga
in News
His Grace, Archbishop Philip Arnold Subira Anyolo has been installed as the fifth Archbishop of the Archdiocese of Nairobi in a solemn and colorful Eucharistic celebration held on Saturday 20th November 2021 at St. Mary's Msongari grounds, Nairobi.
The installation rite was led by the Apostolic Nuncio to Kenya and South Sudan, His Excellency Archbishop Hubertus Matheus Maria van Megen after the Papal Bull was read to all in Latin, English and Kiswahili by Fr. Peter Maingi, Fr. Prof. Lawrence Njoroge and Fr. Charles Wachira respectively. Archbishop Anyolo was led to sit at the cathedra by the Nuncio and the Archbishop Emeritus, John Cardinal Njue, to the ululation and cheers from the scores of priests and thousands of Christians from the 114 parishes in the Archdiocese.
In his homily, the Apostolic Nuncio exhorted the Christians to be cautious and free themselves from "the shackles of power, desire and money and become true followers of Christ." He further complimented the Archbishop Emeritus, John Cardinal Njue for his great service as the Archbishop of Nairobi during his 13 years of service in the Archdiocese. He described his grace as prayerful and humble, indeed indicating him the person fit to serve the Metropolitan See.
The occasion was graced by 22 bishops, scores of priest, religious men and women and Christians from Nairobi, Kisumu, Homabay and Bungoma diocese's among many others from different parts of the country. Government dignitaries and political leaders too were in attendance with the President of Kenya's congratulatory speech read by Cabinet Secretary Monica Juma.
His Lordship, Bishop David Kamau who has been the Apostolic Administrator in the Archdiocese, while welcoming Archbishop Anyolo, assured him of the diocese's cooperation and loyalty while assuring him of a fully functioning institution hence his work will be easier in running the archdiocese.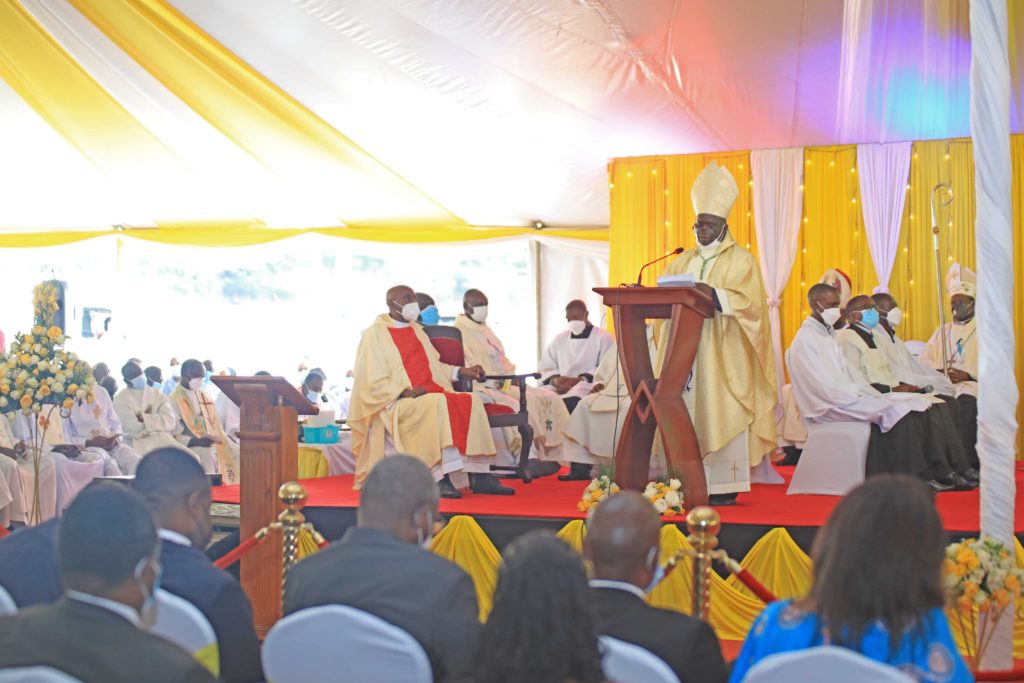 In his maiden speech as the Archbishop of Nairobi, Archbishop Anyolo said, "I come to Nairobi with an open heart and in readiness to learn. I come in humility as a child of God, a child of the universe and son of the Church that calls us to be rooted in Christ through our mother Church."
Noting the state of the country, he expressed concern on various issues in the country. Notably the upcoming general elections. "I urge all our political leaders to exercise civility during this period so we can have a peaceful, free and fair election. I assure our political leaders that as the new Shepherd of Nairobi and in collaboration with my brother bishops and other religious leaders, we shall continue to be the voice and conscience of the nation. We will not shy away from pointing out any ills in the society," he said.
He further thanked the Christians for their warm reception as he entered the Archdiocese at Soko Mjinga on 19th November 2021 and also during the installation Mass recounting the events as "overwhelmed by your love."